Kampot Pepper Black – Ecocert certified
10.00 $ – 18.00 $
Description
Kampot Pepper Black
The Kampot Pepper Black Starling Farm has a strong character but yet a delicate aroma. After a powerful body taste, it reveails outstanding notes of flowers, eucalyptus and mint.
Kampot Pepper Black is hand harvested when the fruit begins to ripen and then dried in the sun. Upon drying, the pericarp (fruit wall enclosing the seed) hardened and becomes black.
Please note that the 100g. is sold in a vacuum packaging and a box. The 50g. is sold in a vacuum packaging.
Kampot Pepper Black is sublime sprinkled on top of salads, pastas, porks or lamb recipes.
*** Make sure to buy real Kampot Pepper. Look for the logos of the Kampot Pepper Promotion Association and Protected Geographical Indication (PGI) of Cambodia on the packaging. ***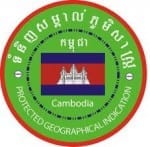 Vacuum sealed for freshness
Premium Grade
100% sun-dried
Harvested and sorted by hand
Ecocert – 100% traceability
Without chemical fertilizers and pesticides
Protected Geographical Indication (PGI)
Fair Trade
Starling Farm is a cambodian family owned plantation located in the heart of the world's premier pepper growing region, Kampot Province, Kingdom of Cambodia. In 2002, Anna Him began to clear the land that would become Starling Farm.
We started with nothing. The Khmer Rouge just wanted to grow rice, explains the businesswoman. They destroyed all the pepper plants. We found some wild plants and we got a few from farmers in the area and replanted them.
Now over fifty people work at Starling Farm in various capacities from pepper specialists, farm labour, pepper sorting and advanced production techniques, and not forgetting the office and shop in Phnom Penh where they handle and package all international orders.