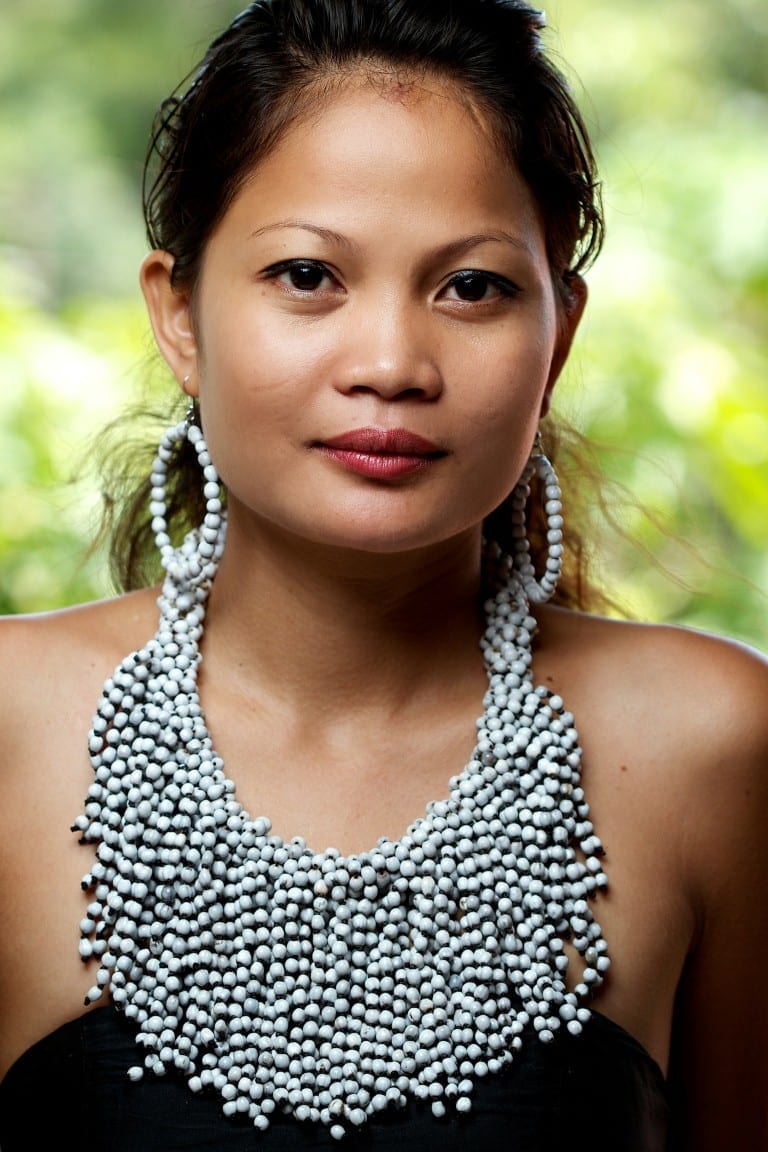 Handcrafted jewelry with natural seeds from Cambodia
Le métal précieux et les pierres précieuses ne figurent pas dans la collection de bijoux étincelants de Rany Som de Siem Reap, au Cambodge. Au contraire, elle utilise plus d'une vingtaine de sortes de graines, comme la minuscule "larme de Job" (Job's tears) blanche ou brune, les graines "Jambei ou Red Lucky Seeds" rouges brillantes ou les préférés de Rany, les graines de lotus séchées noires, trouvés localement pour créer des colliers, des bracelets et des boucles d'oreilles délicats et complexes.
Rany a fondé son entreprise, Graines de Cambodge, en 2011. Rany a grandi au Cambodge et a déménagé en 2007 avec son mari en Inde. Après quatre ans, elle a été obligée de retourner dans sa ville natale, Siem Reap, à la suite de son divorce. Rany n'avait d'autre choix que de laisser son fils derrière. À son retour au Cambodge, ça n'a pas été facile pour Rany car ses parents désapprouvaient son divorce et ne l'ont pas accueilli dans la maison familiale. Elle peinait à trouver du travail.
Un jour, je conduisais ma moto et j'étais tellement triste dans ma vie, si solitaire. J'ai vu des graines sur la route, alors je me suis arrêtée et je les ai ramassées.
Rany a réalisé le potentiel de ces petites graines colorées.
Je ne savais pas comment faire un trou, alors j'ai emprunté la perceuse d'un voisin. Les graines sont très dures et j'ai coupé ma main. Je ne pouvais pas le faire, donc j'ai payé un homme, mais il a seulement travaillé pour moi un jour. Il a dit que c'était très dur, que c'était un travail de fille et il ne voulait pas le faire.
GRAINES DE CAMBODGE'S COMMITMENT
Rany Som emploie plus de dix femmes de son village pour sélectionner les graines. Elle offre ainsi à ces femmes une opportunité d'emploi, plus rare dans les zones rurales. Le processus de sélection des graines est un travail minutieux. Chacune des graines doit avoir une taille, une forme et une symétrie parfaites pour permettre la conception des bijoux.
Graines de Cambodge offre des conditions de travail sécuritaire et un salaire décent aux artisanes cambodgiennes qui confectionnent les magnifiques bijoux de sa collection et permet à ces femmes de pourvoir aux besoins de leur enfants, de supporter leur famille et d'atteindre une autonomie financière.
No varnish or chemical product is used in the making of jewelry from natural seeds collection.
I keep the natural side of the seeds, they shine not thanks to a varnish but rather because they have been rubbed with coconut oil and lemongrass oil, which also gives them a pleasant aroma.
DISCOVER GRAINES DE CAMBODGE'S COLLECTION