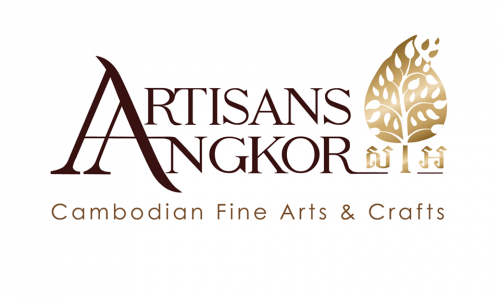 Over the years, Artisans Angkor has become a showcase of Cambodian craftsmanship for its silks worthy of the Silk Road!
THE STORY BEHIND ARTISANS ANGKOR
Artisans Angkor, a social enterprise, started as the offshoot of an educational project, aiming at helping rural youth find a job near  their home villages.
As a natural offshoot of the Chantiers Ecoles de Formation Professionnelle (CEFP) created in 1992 to give professional skills to young rural people, Artisans Angkor was designed at the end of 1990s to provide jobs with attractive working conditions in Siem Reap province. Since then, Artisans Angkor has developed its own training program and now employs both its own apprentices and CEFP trainees.
Today, Artisans Angkor keeps offering vocational trainings in handicrafts to Cambodian young people  (18-25 years old), and teach them how to master silk weaving, wood and stone carving, ceramics, jewelry,  silk  painting, gilding, lacquer or silver plating meticulous techniques.
Not only those apprenticeships are – of course – free of charge for the trainees, they receive a compensation during that time. At the end of the 9 months training period, they are guaranteed a steady job if they are happy with their experience and willing to stay with Artisans Angkor.
ARTISANS ANGKOR'S COMMITMENT
Over the years, Artisans Angkor has become a showcase of Khmer traditional handicrafts, whether it be silk fabrics, stone and wood carving, lacquerware, ceramics, silver plating, jewelry, silk painting and gilding. Artisans Angkor helps preserve traditional skills by training young people in handicrafts for free, and by constantly improving the quality of their artisans' skills and techniques.
The company is completely self-financed and regularly invests in the opening of new workshops and the setting up of new training programs. It employs today over 1 300 people, including more than 800 artisans, and is the first employer of the region of Siem Reap. 38 workshops are currently operating in Siem Reap province.
Since its creation, Artisans Angkor has pioneered a new social policy in Cambodia by guaranteeing a higher income than average as well as social and medical welfare. 5% of our craftsmen are people with disabilities and the company respects gender equal opportunity principles.
The company has successfully revitalized traditional workmanship and keeps striving to create sustainable employment to contribute to Siem Reap region economic growth.
As the customers' satisfaction is their priority, the daily challenge of every artisan is to offer nothing but excellence to make Artisans Angkor a unique showcase of the best of Khmer Fine Arts and Crafts.
SILK WEAVING BY ARTISANS ANGKOR
Silk weaving is a tradition that seems to have been introduced to Cambodia back in the 13th century thanks to the Silk Road that once wandered through Southeast Asia. This craft is practiced by women in rural villages using traditional looms set up below their stilted houses during the dry season when the women are not out working in the fields.
The weavers start by degumming the silk so that the thread can be unwound from the silk cocoons. After that, the silk is dyed. The dyeing process is done using natural pigments.
One of the most sophisticated types of silk cloth is hôl, obtained using the ikat technique. This method requires the meticulous preparation of the pattern by dyeing the weft thread, (the thread placed in the width of the fabric).
The method used is a successive tying-in and dying process with different colors in clay pots, which will then yield geometric or floral motifs. The silk threads are then hand-woven according to a complex intertwining of the warp thread (the thread that runs lengthwise through the fabric) and the weft thread, resulting in a fabric with beautiful shades and shimmering nuances.
Cambodian silk comes in a rich variety of textures, motifs and complexions: phamung (silk fabric in plain color), chorebap (silk brocade), hôl (silk with colorful patterns) and hôl lboeuk (hôl combined with a brocade fabric).
Nowadays, silk weaving is done in rural villages where this age-old tradition still remains, thanks to the women who pass this savoir-faire on to the upcoming generation.
Each creation is therefore a unique piece, a testimony to the preservation of the history of Cambodia and its silk tradition.
Artisans Angkor is a member of Artisans Association of Cambodia (AAC) which is member of World Fair Trade Organization (WFTO).
DISCOVER ARTISANS ANGKOR'S COLLECTION