Spice up your life! Check out these Kampot Pepper recipes
Parmigiano and White Kampot Pepper Crackers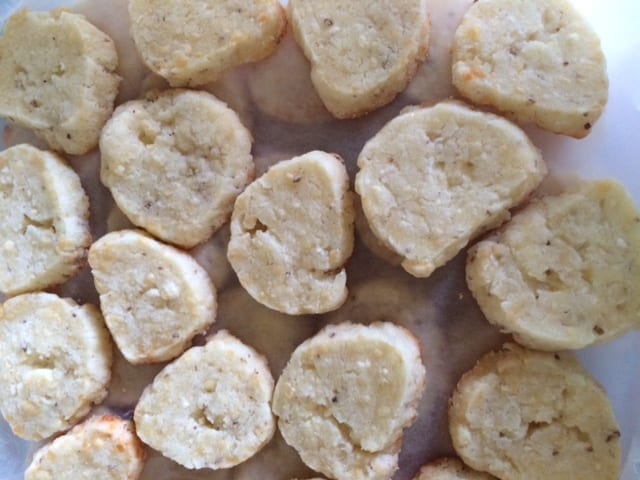 Ingredients
1 cup (250 ml) unbleached all-purpose flour
3/4 cup (180 ml) grated Parmigiano-Reggiano
2 teaspoons (10 ml) ground KAMPOT PEPPER WHITE Starling Farm
1/2 cup (125 ml) cold butter, cubed
3 tablespoons (45 ml) cold milk
Preparation instructions
In a food processor, combine the flour, cheese and pepper. Add the butter and pulse until the mixture resembles coarse sand. Add the milk and process until the dough just begins to hold together.
Lay a sheet of plastic wrap on a clean, damp surface. Place the dough on the plastic wrap and shape into a log about 4-cm (1 ¾-inch) in diameter. Twist and tightly tie the ends of the plastic wrap. Refrigerate until very firm to the touch, about 3 hours. If desired, the raw dough can be frozen at this stage; remove from the freezer 15 minutes before slicing.
With the rack in the middle position, preheat the oven to 180°C (350°F). Line two baking sheets with parchment paper.
Unwrap the dough and place it on a clean surface. Cut into slices about 3-mm (1/8-inch) thick and arrange on the sheets. Bake, one sheet at a time, until golden, 10 to 12 minutes. Let cool on the cookie sheets.
Inspired by Ricardo's "Parmigiano Crackers" recipe.
Black Kampot Pepper Syrup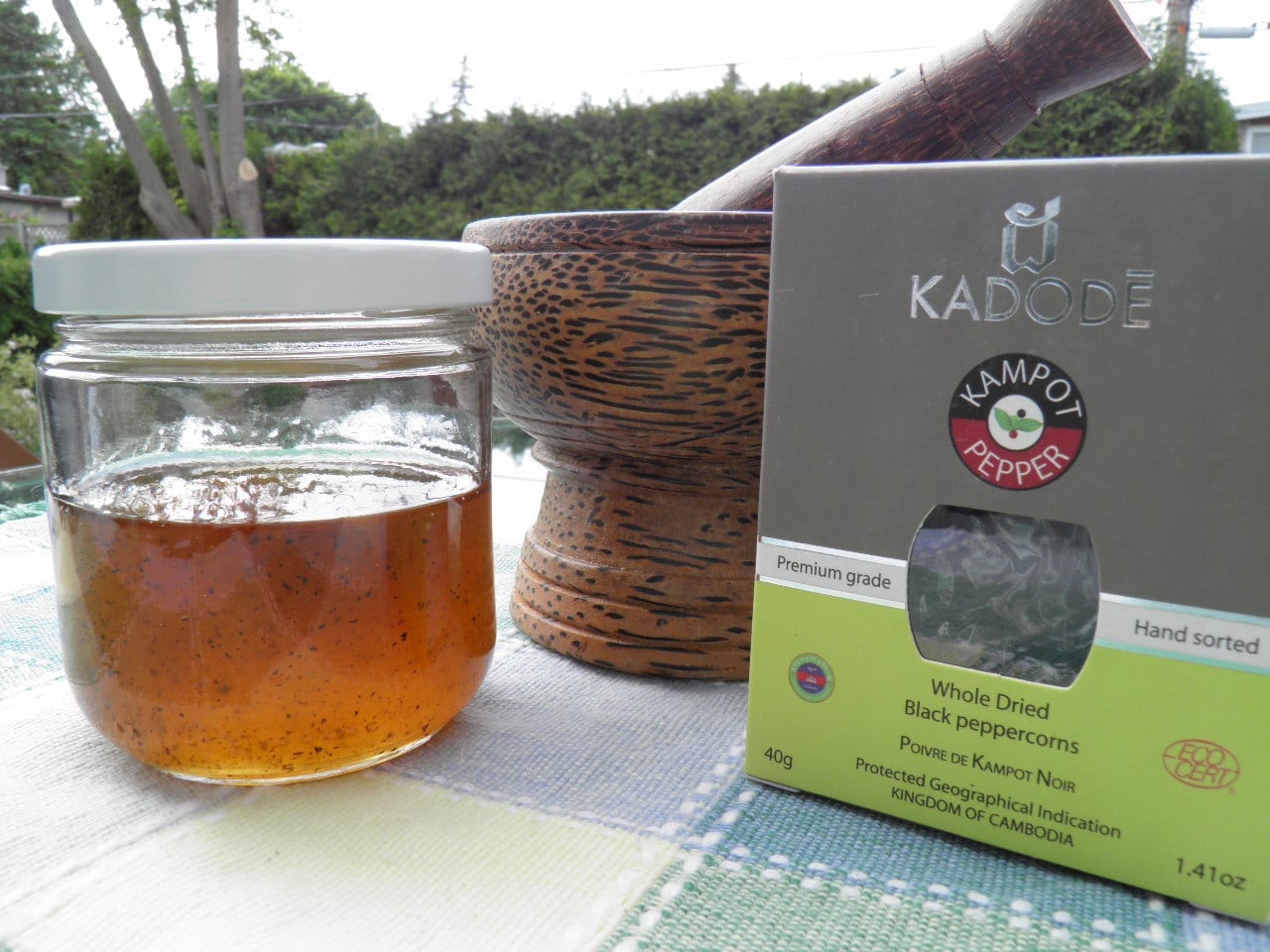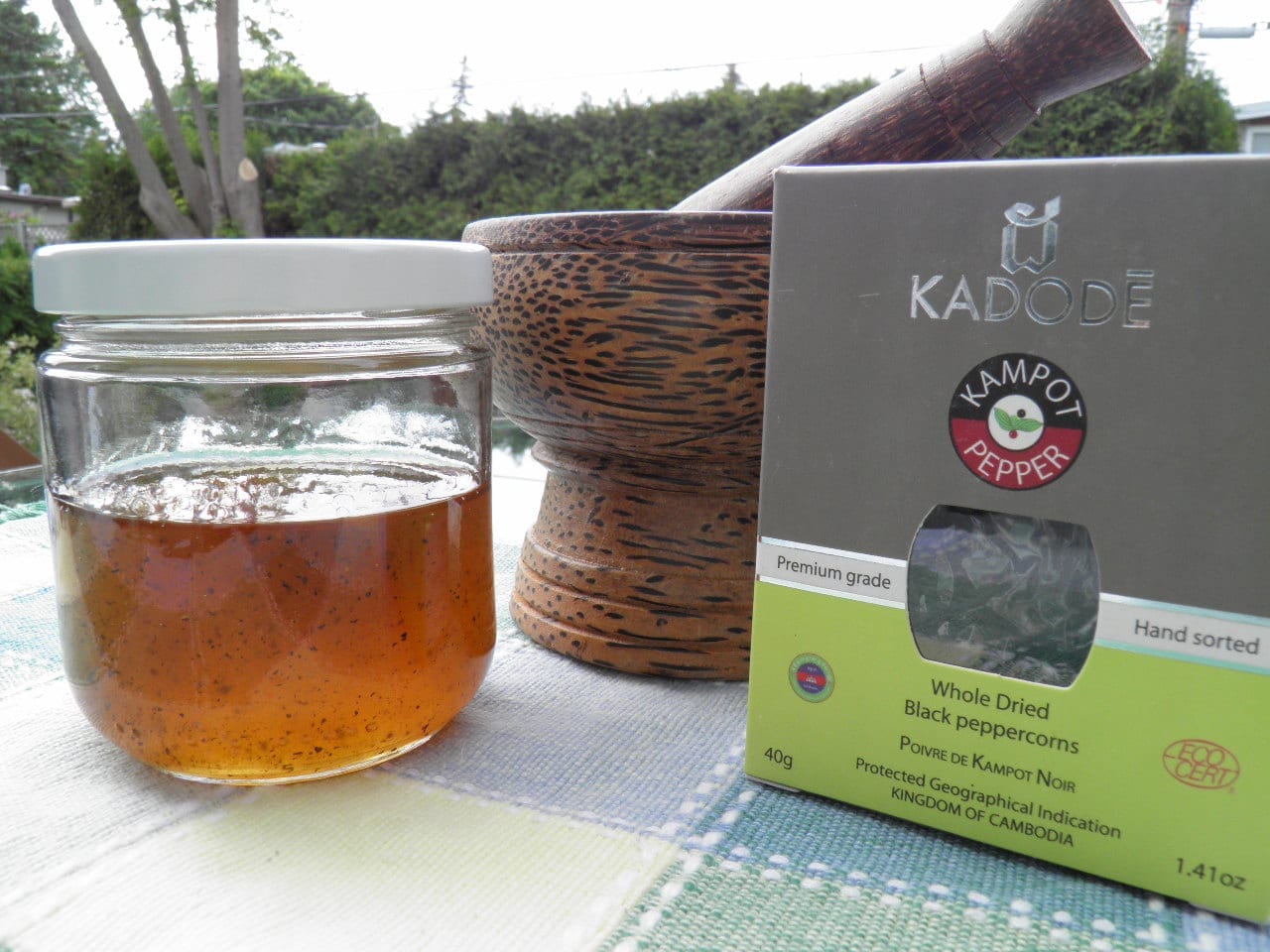 Preparation instructions
Put the sugar and water in a saucepan and boil up to 105 ° to obtain syrup (100 ° it boils, at 105 ° bubbles start to be more dense and make a small effect soap bubbles before they explode ….)
Meanwhile, crushed pepper in a mortar
Remove the syrup from the heat, add pepper and cover. Leave to infuse for 2 hours.
Strain and pour into a pretty bottle. Can be stored up to 2 months in the refrigerator.
Inspired by "pepper syrup" recipe from blog easyyummy.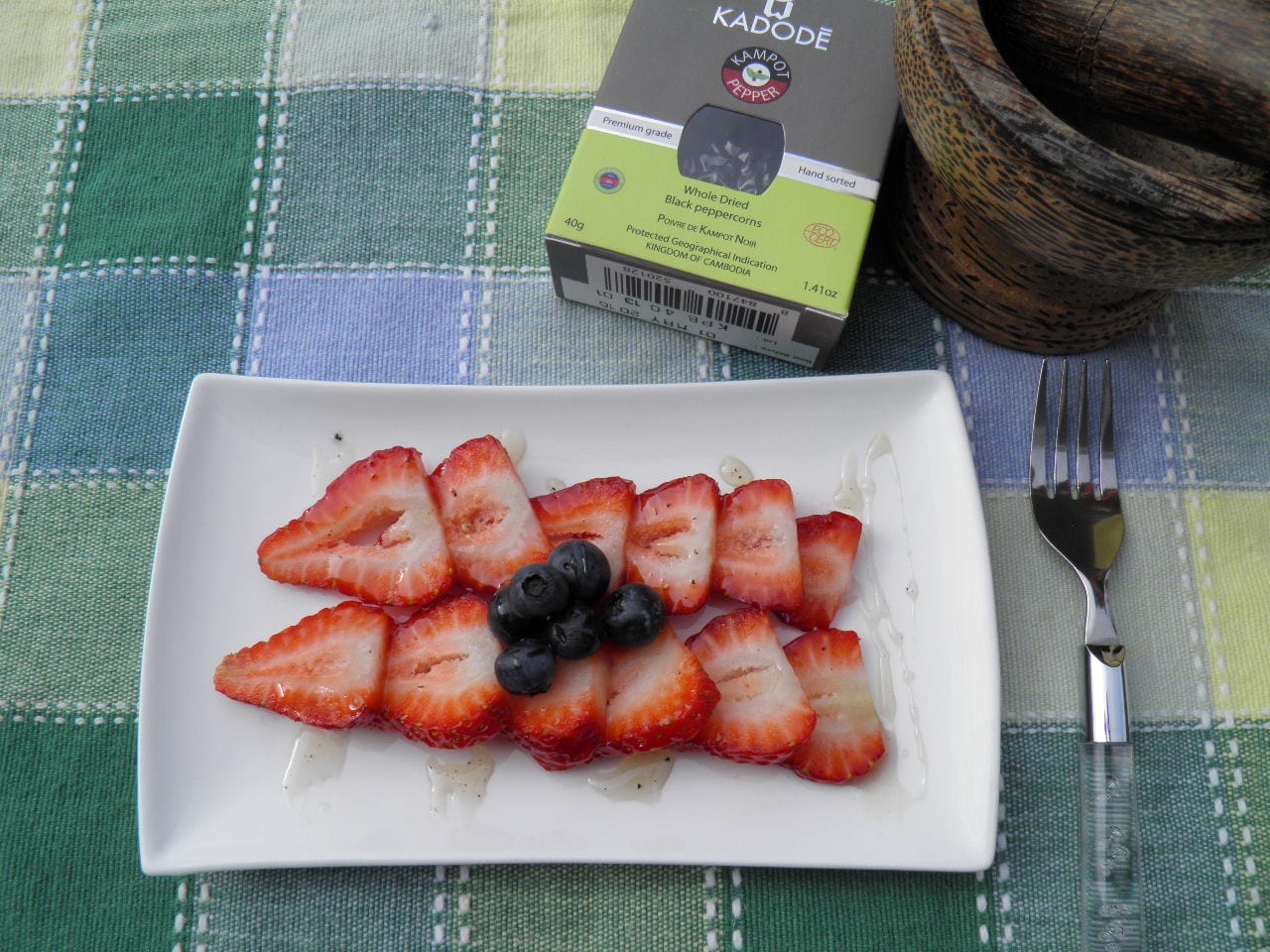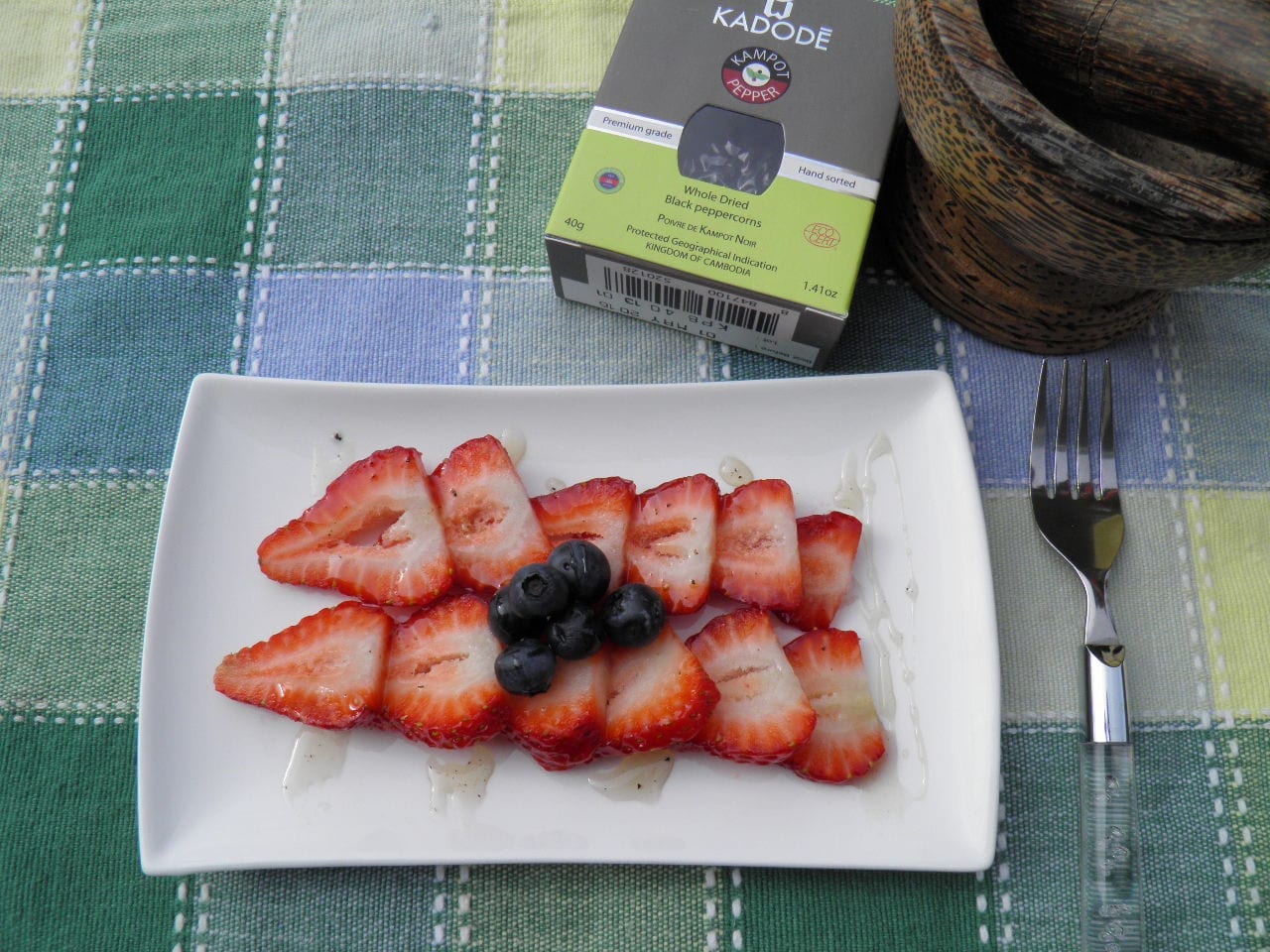 You can serve Black Kampot Pepper Syrup over fresh local strawberries!
Chocolate and Red Kampot Pepper cookies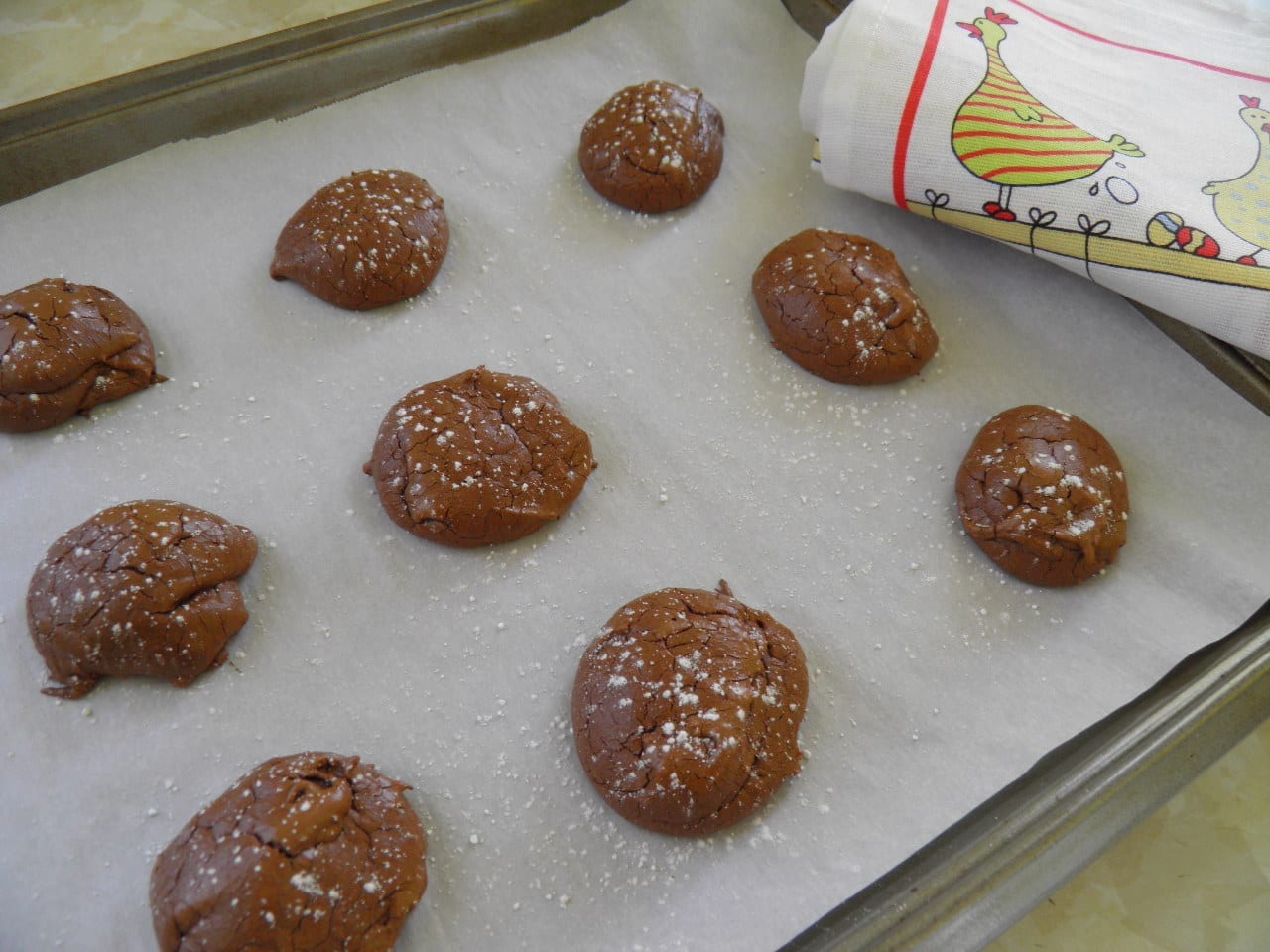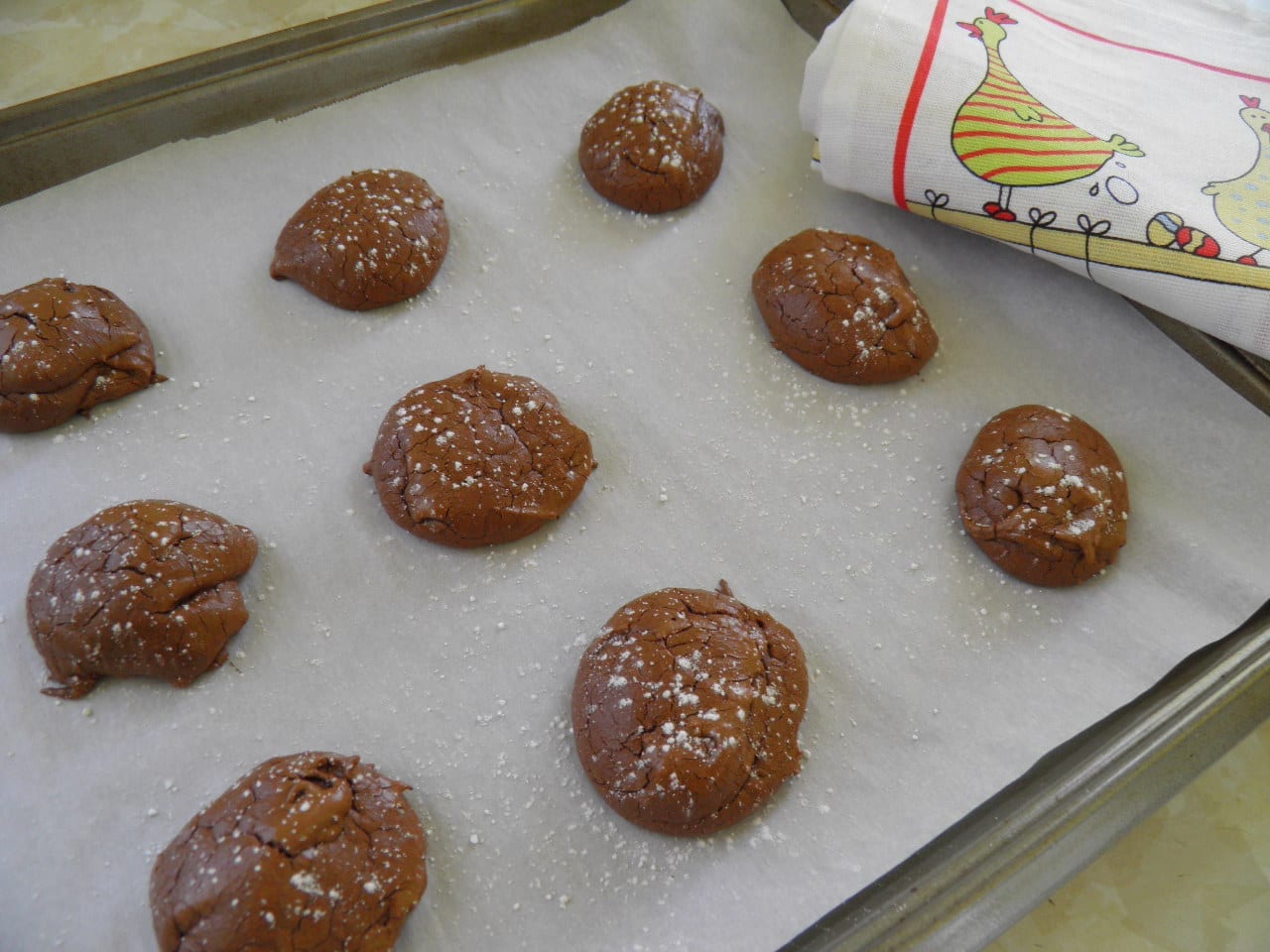 Ingredients
4 squares unsweetened chocolate (4 x 1 oz.) or 100 g. dark chocolate of your choice
1 tbsp butter
1/2 cup
1 egg
1/3 cup unbleached flour of your choice
1/2 tsp baking powder
1 tsp ground KAMPOT PEPPER RED Starling Farm
Preparation instructions
Preheat oven to 325 degrees F.
Chop the dark chocolate into chunks, add the butter and melt in a pan in a water bath, mixing well, then reserved.
Using an electric mixer, beat eggs and sugar until the mixture is frothy.
Add the melted chocolate, mixing well, then the flour and baking powder.
Finish by adding ground pepper and whisk the mixture again.
On a baking sheet covered with parchment paper, place a dozen mounds of the mixture.
Cook for about 10 minutes for medium-size cookies. Reduce the time for smaller cookies. Do not overcook for tender  The cookies are a bit spread out and their surface will crack.
Sprinkle Palm Sugar Flower on top of still warm cookies.
Let cool for 10 minutes before handling.
Makes around twenty medium-size cookies.
Inspired by "Cookies Chocolat au poivre" recipe from Blog tangerinezest.