Essential Scarf – Burgundy-Gold-Silver-Copper
35.00 $
In stock
Description
An Essential

scarf

color rich

!

Essential scarf 100% Fair Trade fine silk, handwoven. Burgundy color striped gold, silver, copper, black and green tea. This scarf has a hem as a finish along the length and fringes across the width.
Fine silk is a natural light and uniform fabric. The radiance and shimmer of colors make this silk an unrivaled fabric. The fine silk that we offer you, creation of Samatoa Lotus Textiles, is distinguished from boiled silk by its firmer texture and having more body. This fine silk is transparent and light, which means that the number of silkworm cocoons to create a thread is lower.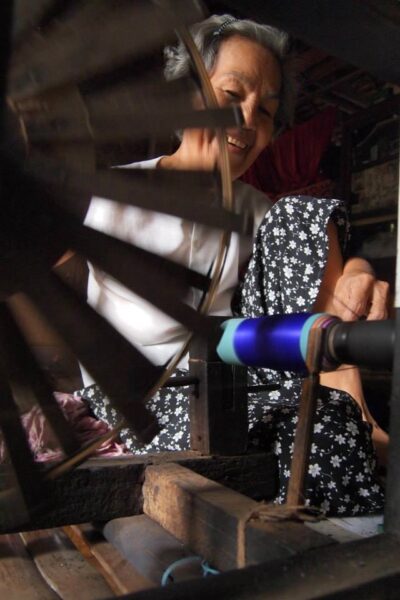 Silk is a natural and renewable material, biodegradable and less polluting to produce (source: Guide du vêtement responsable - 2008, Équiterre). In addition, it is fair trade or ethical because it is handmade according to an ancestral know-how by the artisans who are paid a living wage, have trade union rights, paid leave, and health insurance, not to mention a safe working environment.
Additionally, natural or dyes that don't contain heavy metals are used; these are less damaging for artisans and the environment and therefore eco-friendly while promoting sustainable development.

A pioneer of fair trade in Cambodia, Samatoa Lotus Textiles believes in sustainable fashion in order to elevate artisans to world status in the international fashion market.
Preserving the environment, paying people fairly, and treating each person with respect and dignity are prerequisites for a sustainable fashion business, what Samatoa is.
Samatoa Lotus Textiles is a member of the Artisans Association of Cambodia (AAC) which is a World Fair Trade Organization - Asia member (WFTO-Asia).