Luxurious Shawl – Lotus Fiber
495.00 $
In stock
Description
Luxurious

Lotus

fiber

S

hawl
Exquisite
fabric
like the
lotus
plant
whose flower
symbolizes purity
in
Buddhist culture !
Fair Trade Luxurious Shawl spun and handwoven 50% of lotus fiber and 50% natural ivory silk, Samatoa brand.
The finish along the length of the scarf is the edge of the fabric (as opposed to a hem), which implies that the craftswoman is only weaving one scarf at a time on the loom. This scarf has fringes across the width.
A spinner produces 250 meters of lotus yarn per day. To make a jacket, 4 meters of fabric or 12,000 meters of fiber are required, two months of full-time work. Because of its complexity, this process can only be achieved by hand. The preparation of the loom takes 15 days to 50 meters of fabric, woven in 2 months.
A fabric

with remarkable properties
The lotus fabric has unique properties. It is naturally soft, light and breathable. This is a very ecological fabric:
• It contains no chemicals or toxic
• The manufacturing process requires no gas or gasoline, no electricity, no water addition
• The lotus flower is a phytosanitary plant that cleans the water and protect the eco-system, while preserving fish and insects
The whole process is part of a sustainable development approach.
Samatoa Lotus Textiles received the UNESCO Prize for Excellence in November 2012 for South-East Asia with a Sarong lotus and natural silk.

To learn more about this beautiful fabric, watch this short video: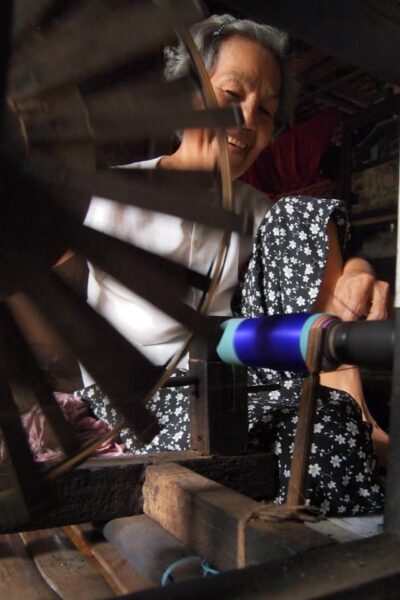 Silk is a natural and renewable material, biodegradable and less polluting to produce (source: Guide du vêtement responsable - 2008, Équiterre). In addition, it is fair trade or ethical because it is handmade according to an ancestral know-how by the artisans who are paid a living wage, have trade union rights, paid leave, and health insurance, not to mention a safe working environment.
Additionally, natural or dyes that don't contain heavy metals are used; these are less damaging for artisans and the environment and therefore eco-friendly while promoting sustainable development.

A pioneer of fair trade in Cambodia, Samatoa Lotus Textiles believes in sustainable fashion in order to elevate artisans to world status in the international fashion market.
Preserving the environment, paying people fairly, and treating each person with respect and dignity are prerequisites for a sustainable fashion business, what Samatoa is.
Samatoa Lotus Textiles is a member of the Artisans Association of Cambodia (AAC) which is a World Fair Trade Organization - Asia member (WFTO-Asia).